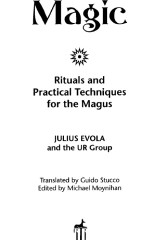 Author : Evola Julius and the Ur Group (Giulio Cesare Evola)
Title : Introduction to Magic Rituals and Practical Techniques for the Magus
Year : 1929

Link download : Evola_Julius_and_the_Ur_Group_-_Introduction_to_Magic.zip

Introduction to Magic is a complex book that presented numerous hurdles for both translator and editor. A primary example of this can be seen in the Italian title Introduzione alia Magia quale scienza dell'lo (literal translation: introduction to Magic as a Science of the I"). The fundamental theme of the book concerns the training and development of this "Io," a term for which it is difficult to find a suitable English equivalent. The word ego is not an appropriate choice, in part due to connotations from modern psychoanalysis. Use of the English first person "I" as an impersonal noun is awkward, and therefore the best solution was to utilize the term Self, capitalized as a proper noun. ...