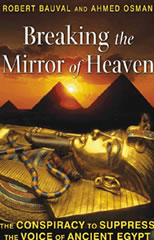 Authors : Bauval Robert - Osman Ahmed
Title : Breaking the mirror of heaven The conspiracy to suppress the voice of ancient Egypt
Year : 2012

Link download : Bauval_Robert_-_Osman_Ahmed_-_Breaking_the_mirror_of_heaven.zip

"This is a book that needed to be written... and I can't imagine a better writing team to have taken on the challenge. Robert Bauval and Ahmed Osman have expertly untangled the history of the Egyptian Antiquities Organization, in all its guises, and successfully exposed the trauma of the Zahi Hawass years. This is a story that should be read by all those interested in Egyptology and everyone who cares passionately about Egypt... a tour de force in modern historical investigation." DAVID ROHL, EGYPTOLOGIST, HISTORIAN, B ROADCASTER, AND AUTHOR OF A TEST OF TIME. ...