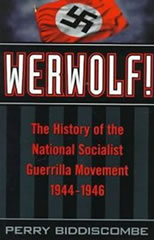 Author : Biddiscombe Alexander Perry
Title : Werwolf ! The history of the National Socialist guerrilla movement, 1944-1946
Year : 1998

Link download : Biddiscombe_Alexander_Perry_-_Werwolf.zip

Introduction. The orthodox opinion on Nazi partisan warfare is that it was non-existent, or a myth produced by a last-minute propaganda campaign launched by Joseph Goebbels. One historian goes so far as to claim that Germany 'did not produce a single saboteur, far less a resistance movement,' and another that 'Werwolf guerrillas never fired a shot.'' Many of those writing about Nazi Germany do not bother to pass such judgments, obviously because they believe the resistance movement, the Werwolf, merits not even a mention. A corollary of this belief is the perception that the German populace was obedient, subdued, and totally apathetic during the transitional stage, or so-called Zero Hour, when the Third Reich crumbled and control of Germany passed to the victorious powers of the Grand Alliance. ...