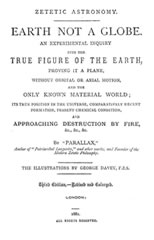 Author : Birley Rowbotham Samuel
Title : Earth not a globe
Year : 1881

Link download : Birley_Rowbotham_Samuel_-_Earth_not_a_globe.zip

Zetetic astronomy. Earth not a Globe. An experimental inquiry into the true figure of the Earth, proving it a plane, without orbital or axial motion, and the only known material world; Its true position in the universe, comparatively recent formation, present chemical condition, and approaching destruction by fire, etc, etc, etc. ...