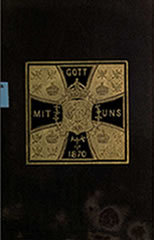 Author : Busch Moritz
Title : Bismarck in the Franco-German war 1870-1871
Year : 1879

Link download : Busch_Moritz_-_Bismarck_in_the_Franco-German_war.zip

On the 31st July, 1870, at half-past five in the afternoon, the Chancellor, who had some days before partaken of the Sacrament in his own room, drove from his residence in the Wilhelm Strasse to the station, accompanied by his wife and daughter, in order to start with King William for the Seat of War, in the first instance for Mainz. Several Councillors of the Foreign Office, a secretary of the despatch department of the Central Bureau, two experts in secret ciphering, and three or four messengers of the Chancellor's department were appointed to go with him. The rest of us followed him only with our good wishes, as, helmet on head, he walked down the stairs between the two Sphinxes, through the great hall, and stepped into the carriage. ...