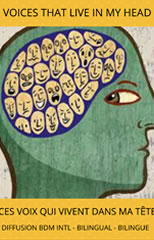 Authors : Dusen Wilson Van - Marzinsky Jerry - Jagatic George - De Montréal Bernard - Tracy Serge - Schaler Jeffrey A. - Swedenborg Emanuel
Title : Voices that live in my head
Year : 2020

Link download : Dusen_Wilson_Van_-_Voices_that_live_in_my_head.zip

Editor's foreword. I started to spread the work of Bernard de Montreal through YouTube 3 years ago today with a team of generous volunteers. It has been more than a year since I discovered Jerry Marzinsky's research on voice hearers. I found an astonishing similarity with the work of Bernard de Montreal. It was while I was talking around about my interest in the voice hearers that David Lévesque sent me a research file on the subject that I began to probe. This book is the result of a collaboration of several actors involved in this field that gradually led me to this book's plan. The source of the texts is mostly video transcriptions, from which we had to clean up the superfluous, but we kept a certain level of redundancy of adverbs and other elements to preserve the personal character of the speakers. We wanted the experience to be both easy and interesting for the reader. You will notice in Chapter 2 that the conversation takes place between Jerry and George but that sometimes Jerry addresses the listeners by talking about George in the 3rd person because it is a voice recording and not a text at its origin. Thanks to all the authors who have permitted us to use this material including David Levesque for his research paper. Please take note that the author's references and websites are indiscriminate of language use. We also would like to thank all the volunteers who participated in the elaboration of this book. We hope you will have as much fun reading it as we did completing the book. Good reading. Pierre Riopel and the entire team of Diffusion BdM Intl. ...