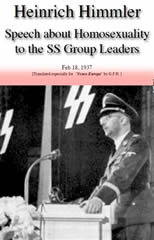 Author : Himmler Heinrich
Title : Speech about homosexuality to the SS group leaders
Year : 1937

Link download : Himmler_Heinrich_-_Speech_about_homosexuality_to_the_SS_group_leaders.zip

When we took over power in 1933, we came across the gay clubs. The registered members totaled two million; conservative estimates by processing officials go as high as two to four million homosexuals in Germany. Personally I think the number was not that high because I do not believe that all those who were in the clubs really were personally homosexual. On the other hand, of course I am convinced that not all homosexuals were registered in the clubs. I estimate that there were between one and two million. A million is really the minimum which we must assume; that is the smallest and mildest estimate that is allowed in this matter. I ask you to keep this in mind. We have in Germany according to the latest census probably 67 to 68 million people, which means, counting very roughly, about 34 million men. Therefore there are approximately 20 million sexually potent men (i.e. men over 16 years old). The estimated number may be off by a million, but that does not matter. If I assume the number of one to two million homosexuals, it is clear that about 7 or 8 or 10% of the men in Germany are homosexual. If this remains the case, it means that our nation (Volk) will be destroyed (lit. "go kaputt") by this plague. A nation will not endure in the long run if the balance and equilibrium between the sexes is disrupted in this manner. Furthermore if you take into consideration the fact, which I have not yet mentioned, that, with the number of women remaining constant, we have around two million men too few (that many having died in the war), then you can imagine how the enormity of two million homosexuals and two million dead, therefore altogether of around four million missing from the number of men capable of having sex, upsets the balance of the sexes in Germany and is leading to catastrophe. ...