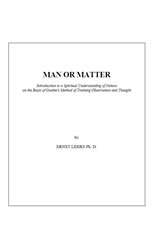 Author : Lehrs Ernst
Title : Man or matter Introduction to a Spiritual Understanding of Nature on the Basis of Goethe's Method of Training Observation and Thought
Year : 1950

Link download : Lehrs_Ernst_-_Man_or_matter.zip

Preface. In this book the reader will find expounded a method of investigating nature by means of which scientific understanding can be carried across the boundaries of the physical-material to the supersensible sources of all natural events, and thereby into the realm where is rooted the true being of man. The beginnings of this method were worked out by Goethe more than 150 years ago. The nineteenth century, however, failed to provide any fertile ground for the development of the seeds thus sown. It was left to Rudolf Steiner, shortly before the end of the century, to recognize the significance of 'Goetheanism' for the future development not only of science but of human culture in general. It is to him, also, that we owe the possibility of carrying on Goethe's efforts in the way required by the needs of our own time. The following pages contain results of the author's work along the path thus opened up by Goethe and Rudolf Steiner - a work begun twenty-seven years ago, soon after he had made the acquaintance of Rudolf Steiner. With the publication of these results he addresses himself to everyone - with or without a specialized scientific training - who is concerned with the fate of man's powers of cognition in the present age. The reader may welcome a remark as to the way in which this book needs to be read. It has not been the author's intention to provide an encyclopaedic collection of new conceptions in various fields of natural observation. Rather did he wish, as the subtitle of the book indicates, to offer a new method of training both mind and eye (and other senses as well), by means of which our modern 'onlooking' consciousness can be transformed into a new kind of 'participating' consciousness. Hence it would be of no avail to pick out one chapter or another for first reading, perhaps because of some special interest in its subject-matter. The chapters are stages on a road which has to be travelled, and each stage is necessary for reaching the next. It is only through thus accepting the method with which the book has been written that the reader will be able to form a competent judgment of its essential elements. E. L. Hawkwood College Easter 1950. ...