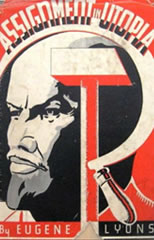 Author : Lyons Eugene
Title : Assignment in Utopia
Year : 1937

Link download : Lyons_Eugene_-_Assignment_in_Utopia.zip

Revolt Against Ugliness. IN AMERICA we still romanticize the glories of a hard, poverty-ridden youth. Our rags-to-riches legends and literature overlook the fact that Tony the Bootblack ends up as a bod-carrier or a gangster more often than a millionaire. They overlook the more vital fact that when he does achieve wealth he generally carries the scars of the unequal struggle on his mind and spirit forever. He can rarely attain the mellow quality of the full, cul-tured existence of those whose rise was more orderly, less desperate. ...