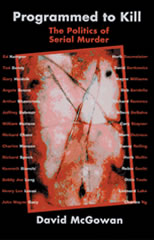 Author : McGowan David
Title : Programmed to kill The politics of serial murder
Year : 2004

Link download : McGowan_David_-_Programmed_to_kill.zip

Introduction. Mind Control 101. It is probably safe to say that this is not your typical 'true crime' book. It is, instead, a journey into an even darker, more disturbing world-one that exists in the shadows of the world depicted in the hundreds of formulaic serial killer biographies that line the shelves of America's bookstores. For many readers, much of the information contained within these pages will be unfamiliar, and some of the theories and ideas that are discussed may seem rather bizarre. ...