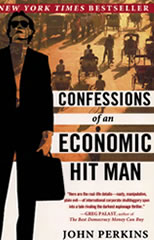 Author : Perkins John
Title : Confessions of an economic hit man
Year : 2004

Link download : Perkins_John_-_Confessions_of_an_economic_hit_man.zip

Preface. Economic hit men (EHMs) are highly paid professionals who cheat countries around the globe out of trillions of dollars. Theyfunnel money.from the World Bank, the US. Agency for International Development (USAID), and other foreign "aid" organizations into the coffers of huge corporations and the pockets of a .few wealthy families who control the planet's natural resources. Their tools include.fraudulentfinancial reports, rigged elections, payoffs, extortion, sex, and murder. They play a game as old as empire, but one that has taken on new and terrifYing dimensions during this time of globalization. I should know; I was an EHM. I wrote that in 1982, as the beginning of a book with the working title, Conscience of an Economic Hit Man. The book was dedicated to the presidents of two countries, men who had been my clients, whom I respected and thought of as kindred spirits-Jaime Rold6s, president of Ecuador, and Omar Torrijos, president of Panama. Both had just died in fiery crashes. Their deaths were not accidental They were assassinated because they opposed that fraternity of corporate, government, and banking heads whose goal is global empire. We EHMs failed to bring Rold6s and Torrijos around, and the other type of hit men, the CIA-sanctionedjackals who were always right behind us, stepped in. ...