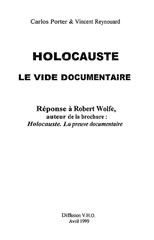 Auteurs : Porter Carlos Whitlock - Reynouard Vincent
Ouvrage : Holocauste Le vide documentaire Réponse à Robert Wolfe, auteur de la brochure : Holocauste. La preuve documentaire
Année : 1999

Lien de téléchargement : Porter_Carlos_Whitlock_-_Reynouard_Vincent_-_Holocauste_Le_vide_documentaire.zip

En 1993, l'Administration des Archives et des Dossiers nationaux (National Archives and Records Administration), installée à Washington DC, a publié une brochure de 37 pages intitulée : Holocauste : la preuve documentaire (Holocaust. The documentary evidence). Il s'agit d'un petit recueil de 33 documents choisis, traduits et légendés par Robert Wolfe. ...