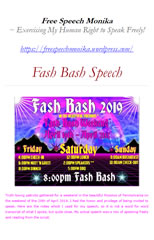 Author : Schaefer Monika
Title : Fash Bash speech
Year : 2019

Link download : Schaefer_Monika_-_Fash_Bash_speech.zip

Truth loving patriots gathered for a weekend in the beautiful Poconos of Pennsylvania on the weekend of the 20th of April 2019. I had the honor and privilege of being invited to speak. Here are the notes which I used for my speech, so it is not a word for word transcript of what I spoke, but quite close. My actual speech was a mix of speaking freely and reading from the script. ...