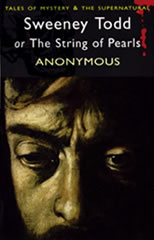 Author : Anonymous (Rymer James Malcolm - Peckett Prest Thomas)
Title : Sweeny Todd or the string of pearls
Year : 1846

Link download : Sweeny_Todd_or_the_string_of_pearls.zip

Introduction. 'A classic,' said Mark Twain, 'is a book everybody wants to read but nobody has read.' It is as good a definition as any. (Sweeney Todd : or) The String of Pearls is certainly a book very few people have read; but most people will not even have heard of it, and you can't rightly want to read it, if you don't know it's there. How, then, can we call it a classic ? The reason is that the book introduced the greatest of all criminal monsters - the odious, the hideous, the incomparable Sweeney Todd. Since his first appearance, in the winter of 1846-7, few villains have matched him, and none has ever surpassed him. Todd set the standard for all who came after him, and influenced some of the greatest writers of English popular literature. To name but two, Mr Hyde and Count Dracula owe a huge debt to the Barber of Fleet Street. Dracula, in particular, borrows huge swathes of Sweeney Todd, both in plot and character. But the evil of Hyde is balanced by the misguided good of Dr Jekyll, and even the Count, the supernatural victim of a diabolic curse, evokes the pity of Mina Harker at the end. Todd has no such excuse, and doesn't seek one: he is entirely human, and his evil is entirely his own. We cannot pity him, nor pardon him: like the hero of A Clockwork Orange, Todd 'does what he does because he likes to', and he does it with boldness, panache and an irresistibly ghoulish humour. So why was one of the gems of English literature only ever printed once, in a cheap and semi-legal magazine, and then consigned to oblivion for more than a century and a half ? ...