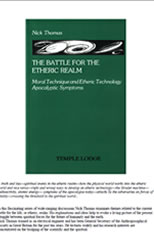 Author : Thomas Nick
Title : The battle for the etheric realm Moral technique and etheric technology apocalyptic symptoms
Year : 1994

Link download : Thomas_Nick_-_The_battle_for_the_etheric_realm.zip

Part One. The battle for the etheric realm. 1 A lie is a lie is a lie ... What is different now in the etheric realm? Is the etheric particularly relevant for us today? The first thing we notice is a degree of hardening that is coming about in the etheric realm. For example, people nowadays have a greater tendency to adopt stereotyped attitudes; views about anything and everything have become increasingly stereotyped during the course of this century. Examples of this are the increase of fundamentalism, or the growing one-sidedness of what is seen as scientific or unscientific. This is the kind of thing that shows how the movements of the ether body are becoming less flexible. It is of course not the shape of the ether body but its movement that can rigidify. Rigid movements are possible in the ether body, and this is what causes inflexibility in thinking. This seems to me to be the development of something Rudolf Steiner spoke about in 1922 in lectures to young people when he discussed the influx of the empty phrase into cultural life.1 I feel that the empty, meaningless phrase has gained ground tremendously during the course of this century. So much is said and written nowadays that is almost entirely meaningless. Not only are words or sentences or even whole speeches meaningless, but entire books have been written that are utterly devoid of meaning, and so on. ...