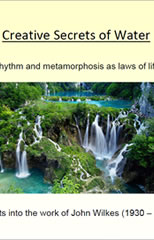 Author : Trousdell Ian
Title : Creative secrets of water Rhythm and metamorphosis as laws of life Insights into the work of John Wilkes (1930 – 2011)
Year : 2014

Link download : Trousdell_Ian_-_Creative_secrets_of_water.zip

Is water the original template of everything alive on the planet ? Water carries nature's intelligence and has its own nervous system. Water is an artist creating all living. forms through rhythm and metamorphosis within inner skins. Water carries the metabolism of the world, maintaining all life in nature. Is physical and energetic, informational and does it have cosmic intelligence as formative light operating through it ? ...