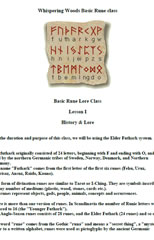 Author : Anonymous
Title : Whispering woods basic Rune class
Year : 2010

Link download : Whispering_woods_basic_Rune_class.zip

History & Lore. For the duration and purpose of this class, we will be using the Elder Futhark system. The futhark originally consisted of 24 letters, beginning with F and ending with O, and was used by the northern Germanic tribes of Sweden, Norway, Denmark, and Northern Germany. The name "Futhark" comes from the first letter of the first six runes (Fehu, Uruz, Thurisaz, Ansuz, Raido, Kauno). As a form of divination runes are similar to Tarot or I-Ching. They are symbols inscribed on any number of mediums (plastic, wood, stones, cards etc.). The runes represent objects, gods, people, animals, concepts and occurrences. There is more than one version of runes. In Scandinavia the number of Runic letters was reduced to 16 (the "Younger Futhark"). The Anglo-Saxon runes consists of 28 runes, and the Elder Futhark (24 runes) and so on. ...