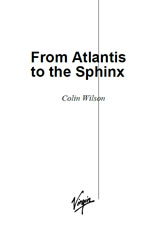 Author : Wilson Colin
Title : From Atlantis to the Sphinx
Year : 1996

Link download : Wilson_Colin_-_From_Atlantis_to_the_Sphinx.zip

Introduction. Y OWN PART in this quest began in July 1979, when I received a review copy of a book called Serpent in the Sky, by John Anthony West. It was basically a study of the work of a maverick Egyptologist called René Schwaller de Lubicz, and its central argument was that Egyptian civilisation - and the Sphinx in particular - was thousands of years older than historians believe. Sch-waller had devoted the latter part of his life to demonstrating that the ancient Egyptians possessed 'a grand, interrelated and complete system of knowledge'. The passage that excited me so much was on page 198: Schwaller de Lubicz observed that the severe erosion of the body of the Great Sphinx at Giza is due to the action of water, not wind and sand. ...