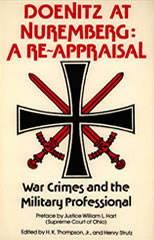 Authors : Thompson H. K. - Strutz Henry
Title : Doenitz at Nuremberg A re-appraisal War crimes and the military professional
Year : 1983

Link download : Doenitz_at_Nuremberg_A_re-appraisal.zip

Early reviewers heralded this book as the most important work on the Nuremberg "War Crimes Trials" to appear in 25 years. It gathers and records for posterity previously unpublished views of 400 leading personalities in the military, the law, arts, diplomacy, philosophy, history and religion. Most of the contributors were active in the World War II era, many serving in commands or occupying positions in the highest echelons. Scholars, students and researchers in the fields of military and international law will find a wealth of otherwise unobtainable material herein. Military and naval personnel will gain from this work a clearer understanding of the risks (in making and carrying out command decisions) imposed upon them by the pernicious doctrines evolved at Nuremberg. The problems of unrestricted submarine and aerial warfare are dealt with by experts in those fields, and definitions of such ambiguous terms as "conspiring to wage aggressive war" and "waging aggressive war" are forthcoming in practical terms. Even more important, the general reader will find that this book will encourage some independent thinking about the Nuremberg and other "war crimes trials," by stripping away the utter sham, hypocrisy and blatant illegalities of those proceedings. ...