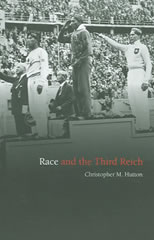 Author : Hutton Christopher M.
Title : Race in the Third Reich
Year : 1999

Link download : Hutton_Christopher_-_Race_in_the_Third_Reich.zip

Introduction. This book is intended to give an introduction to the major questions addressed in the study of race in Nazi Germany, and to assess their place within its evolving intellectual and ideological landscape. It offers neither institutional history nor detailed biographies of the participants. What is of particular concern here are points of tension, controversy and uncertainty, both among academic theorists of race and between academics and the political authorities. The focus is on the politically and intellectually central concept of Volk ('people') and on competing understandings of German identity. This work offers just one particular path out of many through the maze of the Third Reich, and is written with the intention of informing debate about the relationships between race theory, National Socialism and wider trends in European thought. I have focused on those areas where in my view the received popular view is misleading, arid have not attempted to summarize the massive scholarly literature on the institutional basis and implementation of the 'Final Solution' and other crimes against humanity committed by the Nazi regime. Nazism as an ideological system was both dynamic and contentious. There was no single centre of power, and no single figure who determined the political correctness of a particular intellectual direction. National Socialist Germany did not see the rise of a new, clearly identifiable orthodoxy, as the major theoretical positions on race were staked out long before the Nazi seizure of power in 1933. This is not to say that there were no intellectual changes or developments between 1933 and 1945, but these changes tended to take the form of the neutralization or marginalization of particular schools or groups of academics, and the rise of others. ...