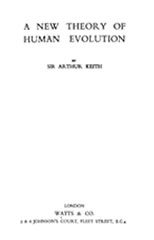 Author : Keith Arthur
Title : A new theory of Human evolution
Year : 1948

Link download : Keith_Arthur_-_A_new_theory_of_Human_evolution.zip

Preface. Almost seventy-six years ago-on February 24, 1871, to be exact-Darwin published The Descent of Matt, and so laid the foundation of ourmodern knowledge of man's origin. I grew up with the book and when a medical student became, as did so manyof my contemporaries, an ardent Darwinist. The Descent ofMan came ofage in 1892, but three years before that Ihad begun to apply myself to the dissection of anthropoid apes and of monkeys-the forms of life which were deemed most akin to man in structure. ...