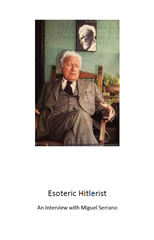 Author : Serrano Miguel
Title : Esoteric Hitlerist An interview with Miguel Serrano
Year : *

Link download : Serrano_Miguel_-_Esoteric_Hitlerist_An_interview_with_Miguel_Serrano.zip

Born in Santiago, Chile, Miguel Serrano served as ambassador to India from 1953-1962, ambassador to Yugoslavia and accredited in Romania and Bulgaria from 1962-1970, as well as emissary to the International Atomic Energy Agency in Vienna and the United Nations Industrial Development Organization (UNIDO). As editor of La Nueva Edad, Serrano managed and published this magazine from 1939-1945. Taking part in the second Chilean expedition to the frozen continent, the author traveled to Antarctica in 1947-1948 with the secret objective of finding the fresh water Oases. A mountain was named in his honor by the Chilean military for being the sole civilian explorer. As a friend of many yogis in India, personal friend of Nehru, Indira Ghandi and the Dalai Lama, Mr. Serrano was the only foreigner to receive the Dalai Lama in the Himalayas following his escape of the Chinese invasion of Tibet. Miguel Serrano belonged to the Hermetic Circle formed by C.G. Jung, (who wrote the foreword to Serrano's The Visits Of The Queen Of Sheba, and it was the only time that Jung ever wrote a prologue for a purely literary work) and Hermann Hesse, in whose house he lived in Montagnola, Switzerland for ten years, once having abandoned his diplomatic career to pursue his passion for research and writing. He has tirelessly searched for the secret, mystical cities of Shamballah and Agartha in the Himalayas, and is still in pursuit of the City of the Caesars in the South American Andes. At one time he proposed a flight to Hanna Reisch, the famous test pilot of the Third Reich, to penetrate the Hollow Earth at the South Pole. Following in the footsteps of Otto Rahn, he has visited the ruins of Montsegur in the Pyrenees and the caves of Sabarthe. From San Juan de la Pena he explored as far as the Camino de Compostela, which originally reached the cromlechs of Stonehenge in Great Britain. Among Mr. Serrano's many remarkable friends were the Catharist scholar Rene Nelli, professor at the University of Toulouse, and the notorious poet Ezra Pound. Serrano sponsored the only monument in the world dedicated to Pound, located in Medinaceli, Spain, whose inauguration was attended by Olga Rudge, Pound's companion, and the Venetian prince Ivancici. ...