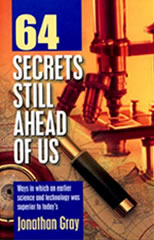 Author : Gray Jonathan
Title : 64 secrets still ahead of us Ways in which an earlier science and technology was superior to today's
Year : 2006

Link download : Gray_Jonathan_-_64_secrets_still_ahead_of_us.zip

I think you'll agree, there are some interesting items on that list. In the next few minutes, we shall look at each of these in turn. But first I would like to share with you an event from America's early history… The young man from South Dakota attracted no particular attention when he arrived in Ouray, nor did he wish to. Ouray in the days of the silver boom was used to having unattached young men arrive to take jobs in the mines, to look the country over, or to exist without any seeming means of support. No one asked any questions about another's business; if they had done so it might not have been safe, and it certainly would not have been considered good manners. So this young man from the the north cleaned out an abandoned cabin, settled down, and minded his own business. He went into the town for his meals morning and evening, and what he did during the day no one knew or cared. If he had been watched he would have been seen climbing over the almost perpendicular mountains which enclose Ouray on three sides, giving special attention to the abandoned silver mines, where the strain of ore had run out. In the evening he would come in with a sack full of rocks slung over his shoulder – a common enough sight, and not one to cause attention. Presently he received a number of assay reports from Denver, and in consequence he made some contacts with the owners of several of these worked-out properties. Still Ouray did not know what he was doing. After all, it was a silver-mining town, and those properties, as everyone knew, were worthless for mining. It is probable that the owners who sold out to the youth chuckled to themselves at the time because he had paid good money even for a mere option on such worthless propositions. But they did not chuckle, nor did the townspeople continue to disregard him, when, a few weeks later, he began mining operations for gold in those same abandoned properties. For that is just what he had found! He had made a rich – fabulously rich – strike. The very ore dump at the Camp Bird Mine assayed $3,000 to the ton. In today's terms, that would be worth many times more. Thus did young David Ignatius Walsh, later United States Senator from Massachusetts, find wealth in a territory that had never been thought of as gold country, because he had studied a little metallurgy and had observed that the same sort of rock that was being discarded had gold in it in South Dakota. ...